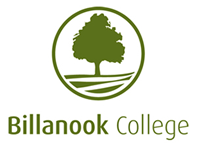 CRICOS PROVIDER Number : 00131M
Address : 197-199 Cardigan rd, Mooroolbark, Melbourne, VIC, AUSTRALIA 3138
Website : www.billanook.vic.edu.au
School Type – Co-educational Independent school

Philosophy
Billanook College is a coeducational, day school. Founded in 1978, the school is a member of the Round Square, an educational organization that maintains and facilities schools to promote a holistic approach to teaching and learning. The school's principal is based on developing each student's academic excellence, abilities, and maturing into responsible adults. International students at the college will be warmly welcomed and cared for by highly qualified staff. In regards to the school's curriculum, there are a variety of subjects to choose from: Sports, music, Performing Arts and Education plus a variety of other academic activities. These courses and activities develop Leadership skills and tightly-knit teamwork mentality, allowing both local and international student to cooperate and succeed with one another. Students from Billanook College express determination to improve their academic skills and succeed in the future. Therefore, students from around the world aid one another in creating a positive and moving environment at the college through the exchange of ideas and teamwork. The college promotes cultural diversity and therefore, encourages students to each one another about their cultural backgrounds and thinking.
Location
The college is located on the eastside of Melbourne, surrounded by nature, promoting a safe and secure atmosphere for students. The school is perfectly equipped with the latest teaching facilities and materials to ensure each student is well-educated. All subjects include additional tutoring class and intensive ESL courses also.
Curriculum & Qualifications
Students in Year 7 – 10 will be able to take the Victorian Certificate of Education (VCE) which provides a wide range of subjects to choose from. Students in Year 11 – 12 can choose to study vocational subjects (VET) in addition to undertaking the regular curriculum. Once students successfully complete their high school studies, they will receive the VCE certificate, which is widely accepted across Australia and leading universities around the world.
Academic Achievement
Billanook College takes pride in their students who exceed all academic expectations. 40% of students who graduated from the college achieve top scores (within the ranks of Top 20) every year in Victoria.
Intensive English / ESL Support
Students who do not speak English as a first language will be enrolled in the school's ESL programme and will be closely supervised by teachers and staff. Additionally, the school will assign specialized staff to help students in their classes to help them with their study material and clarify points they do not understand.
Support Services for International Students
Billanook College is dedicated to assisting all international students to ensure every student is cared for, supervised and guided accordingly. The school also provides homestay services for students who wish to stay with a homestay family.