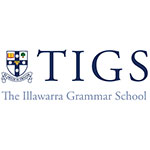 The Illawarra Grammar School
CRICOS Provider Number : 02300E
Website : www.tigs.nsw.edu.au
Address : PO Box 225, Figtree NSW Australia 2525 – Western Avenue, Wollongong
School Type : Co-educational Day School

Philosophy – Special Features, Brief history
The Illawarra Grammar School is a co-educational school which was established in 1959. The school aims to develop the students academically, spiritually, intellectually and socially. The school is open from Preparatory to Year 12 and currently has more than 1,070 students.
Location
The school is located in Wollongong city in the state of New South Wales and only 1 hour from the central business district of Sydney and the airport. Wollongong is rated one of the most livable cities in the state of NSW.
Curriculum and Qualifications
The Illawarra Grammar School has Higher School Certificate courses for Year 11 and Year 12 students and also has a variety of subjects to choose from as well as the Higher School Certificate advanced core subjects. The school also offers more courses such as English (ESL – English as a second language) for students in Year 11 and 12. In addition, TIGS also encourages students to participate in various activities to build self-confident and development of teamwork.
English Language Support
The school supports its international students on campus by offering English as a Second Language (ESL) courses to prepare them for higher education.
Accommodation
Homestay accommodation is provided by the school. Each family from the local community is reputable and is close to the school campus, providing easy commute for the student. A homestay coordinate visits all accommodation assuring their well-being and safety.
Support Services for International Students
Guardianship can be provided for all international students under 18 years of age who do not have a parent or relative in Australia.