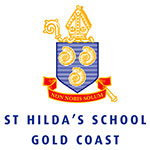 St Hilda's School
CRICOS Provider Number : 00510M
Address : Gate 2, Cougal Street Southport Queensland 4215
Website : www.sthildas.qld.edu.au/
School Type : Gate 2, Cougal Street Southport Queensland 4215


Philosophy – Special Features Brief history
St Hilda's School has been offering a caring community life for boarders for more than a century and today, our community comprises 180 girls enrolled from Years 6 to 12. We also have boarders from the Gold Coast and nearby Northern Rivers region of New South Wales. Our international boarders and daughters from expatriate families contribute to our school's diversity and rich cultural fabric
Location
St Hilda's School is located in the state of Queensland, 34 minutes away from Gold Coast Airport, and 22 minutes away from Robina Town Centre by car
Curriculum and Qualifications
The curriculum at St Hilda's School offers a modern, innovative and lively learning environment to cater for the diverse needs of young women. The curriculum enables St Hilda's School to develop an atmosphere where excellence is an expectation.
Pathways to Schools
The school looks forward to offering every assistance through the enrolment process
Academic Achievement / Other Notable Achievements
The majority of students who graduate from St Hilda's School are able to attain famous universities as St Hilda's School creates a strong relationship with many quality learning institution.
Accommodation
Students on a Student Visa are required to live with their parents, in the St Hilda's Boarding House or in Approved Homestay Accommodation, which are located in safe and caring environment
Support Services for International students
The Australian Government wants International students in Australia to have a safe, enjoyable and rewarding place to study. Australia's laws promote quality education and consumer protection for international students. These laws are known as the ESOS framework.