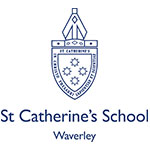 St Catherine's School
CRICOS Provider Number : 02322k
Website : www.stcatherines.nsw.edu.au
Address : 26 Albion St, Waverley NSW 2024, Australia
School Type : Independent Girls School (Boarding School)

Philosophy
St Catherine's teachers and mentors spend time getting to know each girl to gain a deep understanding of her talents and interests as well as areas that need strengthening. It means we can set the academic bar at the right height for each student to ensure she is constantly challenged and strives for excellence in her learning. We call this 'Academic Challenge', one of two core pillars that nurture each girl in her journey through the School. It is enhanced by programs such as Gifted and talented and Learning enrichment. The other foundational pillar is 'Academic care' which supports each girl every step of the way and features a mentoring program and our innovative positive psychology focus from Kindergarten to Year 12.
Location
St Catherines School ia located in Sydney on the Waverly suburb which is only 5 minute from Bronte Beach and only 30 minute to Sydney CBD
Curriculum and Qualifications
St Catherine's pursues excellence in teaching and learning, encouraging girls to take an active role in their learning and make informed choices about their education. During Years 7-10, girls study a range of mandatory courses, with elective options available from Year 8 onwards. In Years 11 and 12, students choose from a wider range of subjects to prepare for the Higher School Certificate (HSC).
Academic Achievement
2015 HSC RESULTS An ATAR (Australian Tertiary Admission Rank) is a rank between 0 and 99.95 that indicates a student's position relative to the state cohort.
ATAR Percentage of students
99+ 5%
95+ 15%
90+ 40%
85+ 62%
80+ 72%