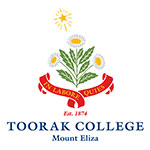 Toorak College
CRICOS Provider Number : 00349D
Website : www.stmichaels.vic.edu.au
Address : Old Mornington Road, Mount Eliza, VIC, AUSTRALIA 3930

Philosophy – Special Features Brief history
Toorak College is an all girls' boarding school and is considered one of the oldest schools in Australia. The school has been founded 132 years ago and continues to operate until today. The school's main objective is to develop each student's abilities across a spectrum of categories such as sports, arts and music for instance.
Location
Toorak College is located 1 hour away from Melbourne. The school is located in a peaceful environment, close to the sea that provides the ideal environment for students to enjoy, relax and study.
Curriculum and Qualifications
The school is open to students from Kindergarten to Year 12. Students in Year 10 are able to choose 1 of 2 curriculums to pursue: Victorian Certificate of Education (VCE), a certificate awarded upon successful completion of the course requirements and continue onwards to university. The other is Vocational Education & Training (VET), a certificate awarded to students pursuing a specific career after graduation.
Entry requirements for overseas students
Students at Toorak College from Year 7 – 10 must present their Academic Report prior to applying to the school. This process is required for staff to determine the student's scores and eligibility to enter Year 11 – 12. Students must take the AEAS Test (which can be taken at CETA) to determine their English proficiency skills as well
English Language Support
The school has prepared an Intensive English course for students whose English is not their primary language. The courses will be taught by a qualified English teacher with many years of teaching experience and works closely with international students.
Pathways to University
The school has a centre for students who are on their last phase of their academic journey to come in and consult with the school's counsellors for advice.
Academic Achievement / Other Notable Achievements
In 2013, many students from the school achieved many noteworthy academic milestones:
Many students achieved an average ATAR score of 83.55 points.
15% of students under VCE achieved ATAR scores in the Top 5% of the country.
30% of students in all of Year 12 achieved ATAR scores in the Top 10% of the country.
54% of students in all of Year 12 achieved ATAR scores in the Top 20% of the country.
76% of students in all of Year 12 achieved ATAR scores in the Top 30% of the country.
All students from Year 12 received university offers.
Accommodation
The school's boarding facilities are provided for high school students within a safe, secure and positive environment. Students will be well-cared for during their time at the school.
Support Service for International student
The school has international students from 20 different countries from around the world. Each student will be personally assisted by the staff, ensuring each student is on track and happy.